World Class Soft Wash
Brisbane
From exterior house washing and driveway cleaning to graffiti removal and car park cleaning, owning a property, residential or commercial is a big investment. It is common to see mould, mildew and dirt build-up on roofs, exterior surfaces and gutters. This makes regular soft wash in Brisbane a priority.
Soft washing is an ever-popular exterior cleaning method ideal for cleaning a number of fragile, old and delicate surfaces. 
Water Attack Pressure Washing offer industry-leading soft washing for Brisbane homeowners and commercial properties alike. Experienced, trustworthy and passionate about what we do, we ensure each job is completed to the highest standards.
0
%
SATISFACTION
GUARANTEE
Why Invest In
Water Attack?
Your Local Brisbane Soft Wash Experts
Soft washing is an alternative roof cleaning method to the traditional approach of pressure washing exterior surfaces to kill mould and remove dirt build-up.
In addition to age, there are a number of reasons why soft washing is preferred for some surfaces. Despite their use, not all construction materials are made equal – some are more delicate and fragile than others.
Soft washing reduces the risk of surface damage by using a low-pressure (1000 psi or lower) nozzle and eco-friendly cleaning solutions that effectively cleans and disinfects surfaces.
Soft Washing techniques are recommended for surfaces, such as:
Metal, Tile and Terracotta Roof Systems
Canvas Awning and Shade sails
Timber weatherboard and older fragile paint systems.
Modern architectural mouldings and facades
Mould and algae treatments.
Tennis courts
Unsure if soft washing is for you? At Water Attack, we work and collaborate with you to design an exterior cleaning solution tailored to your needs.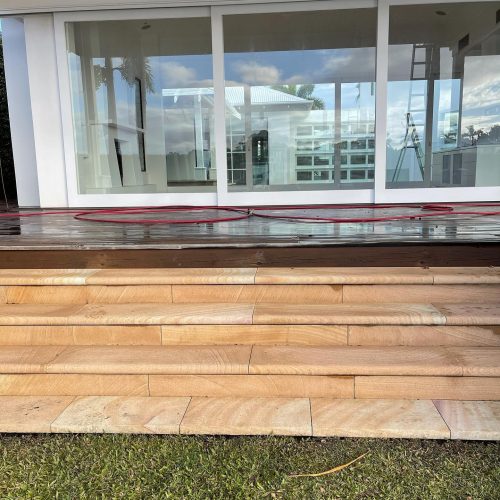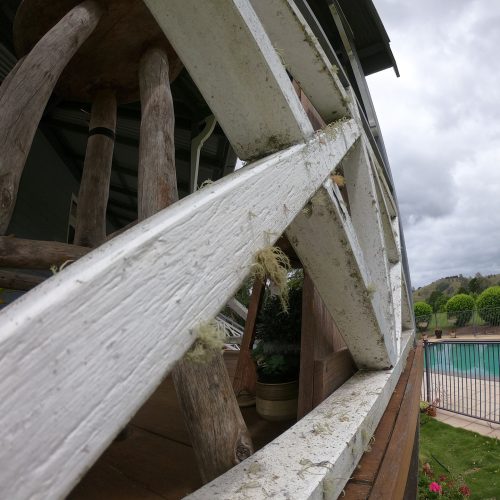 Superior Service. Quality Cleaning.
#1 High Pressure Cleaning Business Servicing The Sunshine Coast & Northern Brisbane
Soft Wash For Brisbane Properties
Soft wash cleaning services have been a popular system of cleaning in Brisbane for close to 20 years and is quickly being adopted across the world. 
Soft wash services in Brisbane boasts a number of benefits, including:
Reduces the Risk Of Damage
Your property is constantly exposed to the elements and if left untreated a build-up of dirt, grime can hide as well as cause damage to a variety of surfaces.
Regularly soft washing your home eliminates this build-up, and other naturally occurring hazards like dead insects and animal droppings reducing the risk of damage and extending the lifespan of your structure.
Damage due to dirt build-up can be expensive to repair and will need replacing much sooner than a well-maintained property. 
Prevention is better than cure! Regular maintenance from industry experts, ensure you save money in the long run!
Studies have shown that mould, mildew and dirt build-up contributes to a number of health and safety concerns in a home. The combination of low-pressure water and cleaning solutions eliminates these toxins at a molecular level, leaving your property protected for longer.
Soft Wash vs Pressure Wash
Both pressure washing and soft washing are effective cleaning systems for a number of exterior surfaces, ranging from decks, driveways, walls and roofs.
However, there are a number of factors to consider when choosing the right system for your property. While pressure washing is effective for sturdy surfaces such as driveways and concrete, soft washing is more effective for roof shingles and aged surfaces.
 With a reputation as Brisbane's #1 pressure cleaning company, we practice the utmost professionalism and attention to detail, allowing us to provide all the information you need to choose the best system for your needs.
Let us help you breathe new life into your property!
keep your home & business sparkling
Fast, Efficient Reliable Soft Wash For Sunshine Coast Homes
We provide a wide range of services to commercial and residential clients
Get Professional Soft Wash Services
Don't Take Our
Word For It
What people have to say about us...