Durable, low-maintenance, and good-looking, it is no wonder that concrete is a property owner's material of choice when it comes to driveways, patios and sidewalks! However, as much as we want our surfaces to stay as clean and good-looking as the day they were installed, concrete surfaces are not impervious to stains and grime – they are exposed to the elements after all!
As a residential or commercial property owner, it's important to understand the importance of maintaining and cleaning your concrete and how this can be achieved. Here is what you need to know!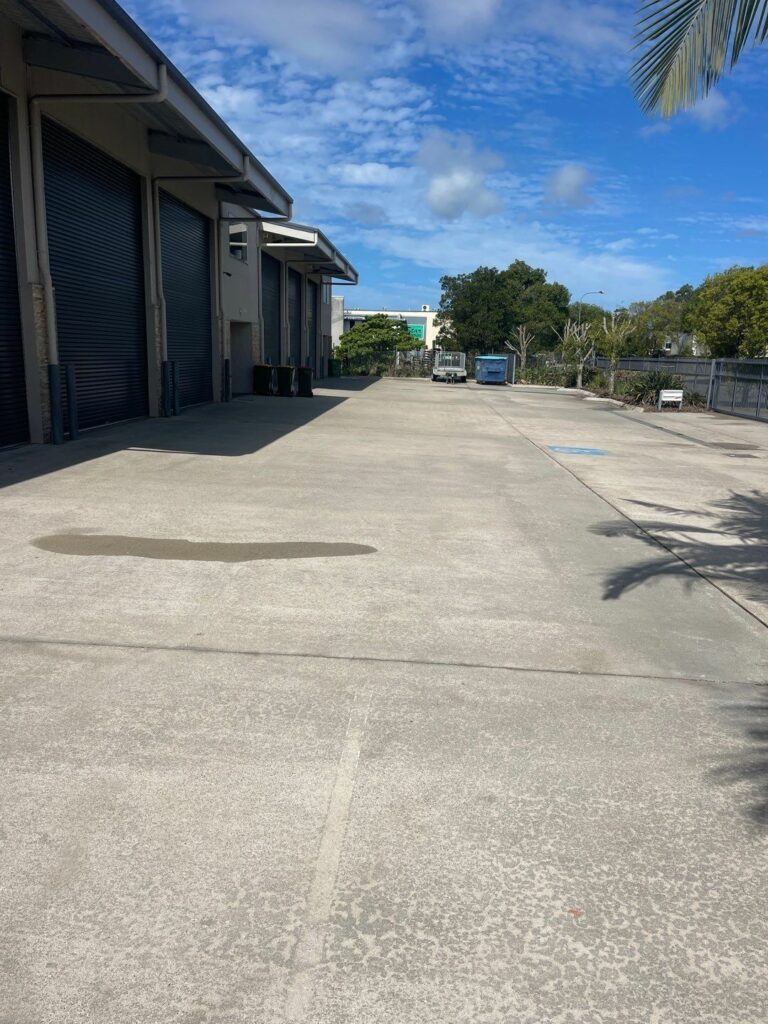 The Importance Of Concrete Maintenance
Concrete is one part of any property that endures a daily beating of foot traffic, heavy vehicles and exposure to the sun, rain and other elements! It comes as no surprise that over time, these surfaces become dirty, dull and stained with mildew and grime.
Not only does this affect the curb appeal of your property, but it can also lead to long-term damage if not taken care of in a timely manner!
Dirty concrete can drastically shorten the lifespan of your concrete
It is important to note that while concrete is a very durable material, it is not indestructible! Over time dirt, grime and mildew can begin to eat away at your concrete causing cracks, holes and other forms of deterioration. This is especially true for concrete that is constantly exposed to moisture like driveways, sidewalks and patios.
Dirty concrete can be dangerous
The grime and mildew that grows in concrete can get slippery when wet. As a homeowner, you don't want your friends and family to get hurt, and as a business owner slips and falls can be costly!
Dirty concrete is unsightly
There is no denying that a well-maintained concrete surface looks much better than one that has been neglected. Cleaning and maintaining your concrete will not only make your property look better but can also increase its value!
General Concrete Maintenance
While it may seem like a laborious chore, general maintenance is key to keeping your concrete in tip-top shape! Here are some tips on how to do just that:
If you are planning on cleaning your concrete be sure to prep the area beforehand. Sweep dried leaves and loose dirt off the surface. You can opt for a leave blower to remove dirt, debris and gravel. Finally, make sure to remove and treat weeds growing in cracks. 
Inspect your concrete surfaces regularly
Be sure to check your concrete regularly for any cracks, chips or other forms of damage. By doing so you can identify any problem areas and address them before they become bigger issues!
Treat stains as soon as possible
As soon as you see a stain on your concrete, treat it! The longer you wait the harder it will be to remove. However, more stubborn stains may require professional help.
Enlist professionals for extensive regular cleaning
Spot cleaning concrete surfaces can be done as needed, and is a great way to target specific areas that may be particularly stained or dirty. However, for a more thorough clean getting professional pressure cleaners such as Water Attack Pressure Washing, can remove any stubborn dirt, grime or mildew that may be attached to your concrete!
They have the proper equipment and cleaning solutions to get the job done right. Not to mention, they have the skills and knowledge to do so without the risk of damaging your concrete!
Seal Your Concrete To Prevent Stains
Once you have thoroughly cleaned your concrete, it is recommended to seal it. This will protect your concrete from future staining and make clean-up all the easier. High-quality sealers also help keep dirt, grime, and grease from penetrating the concrete's pores, preventing them from damaging the material.
Better Results With the Help of Professionals
Before spills, grime, and other substances damage on your concrete, make concrete maintenance a habit. Cleaning and maintaining your concrete doesn't have to be a daunting task! By following the tips listed above you can keep your concrete surfaces looking great all year round.
The experts at Water Attack Pressure Washing can also help you achieve the best results for your concrete! We offer a variety of services such as pressure washing, concrete sealing and more. Get better, lasting results with Water Attack Pressure Washing today!