Is your roof looking a little too green? Experiencing unsightly black streaks or even a leaky roof? A layer of green moss might look cosy and rustic atop for some, but it is important to remember that if left untreated moss and algae can be bad news for your roof!
Moss and algae grow best in damp, shady areas, and if you live in a humid environment or an area with particularly wet weather, then it is likely that this clumpy greenery will begin to quickly colonize your roof.
Fortunately, removing this growth is a fairly simple task and can be performed on a seasonal or as-needed basis to keep your roof weathertight and tidy-looking. In this latest post, we will be offering tips on how to effectively remove moss and algae from your roof.
Why Clean Moss & Algae From Your Roof?
Moss and algae growth on roofs can do more than just affect the aesthetic of your home. If left untreated, these organisms will cause serious damage to roofing materials, leading to costly repairs that could have been avoided
Moss and algae create a layer of insulation on the roof which can prevent water from evaporating quickly, allowing water to seep underneath. This pooled water can cause the roofing material to rot, and eventually leak, which is why it is so important to keep this growth at bay.
Roof Algae: Dark Spots & Streaks
You may have begun to notice dark spots or streaks along your roof and shingles. This is a sign of algae growth. 
Algae is a type of organic growth that stays low and flush to the surfaces it grows on. It is typically airborne spored spread by the wind, birds and pests that will settle in your roof.
Algae thrive in areas least exposed to UV and dry last after rain or morning dew. As the algae speeds, it will begin to look like large black streaks on the shingles.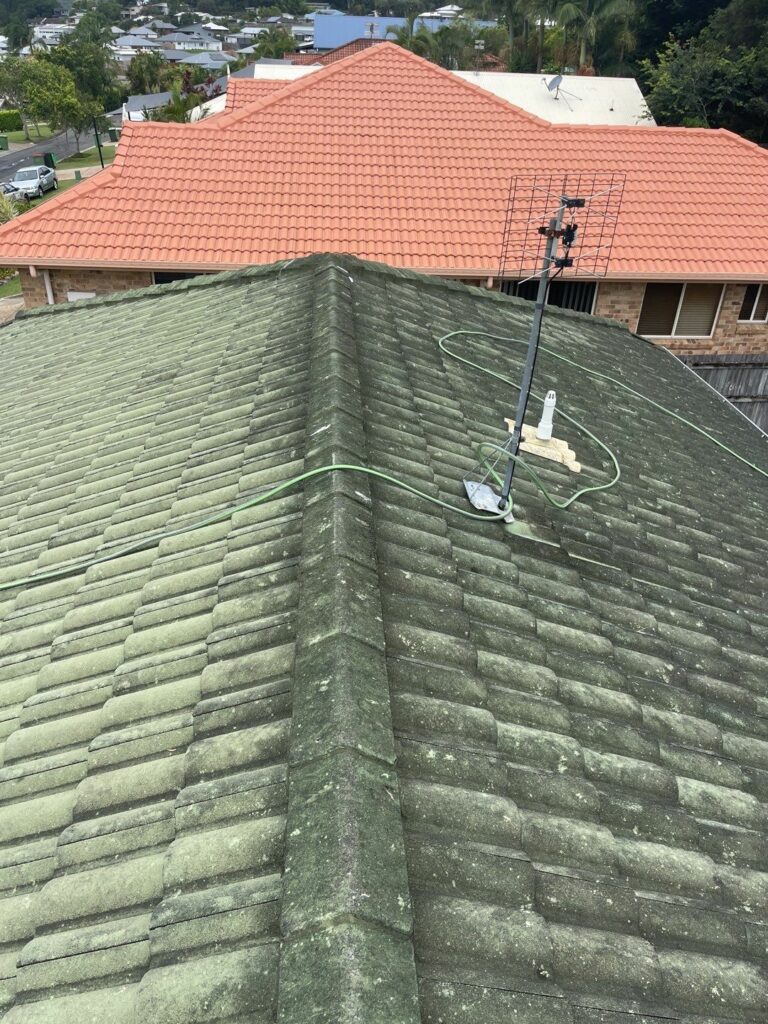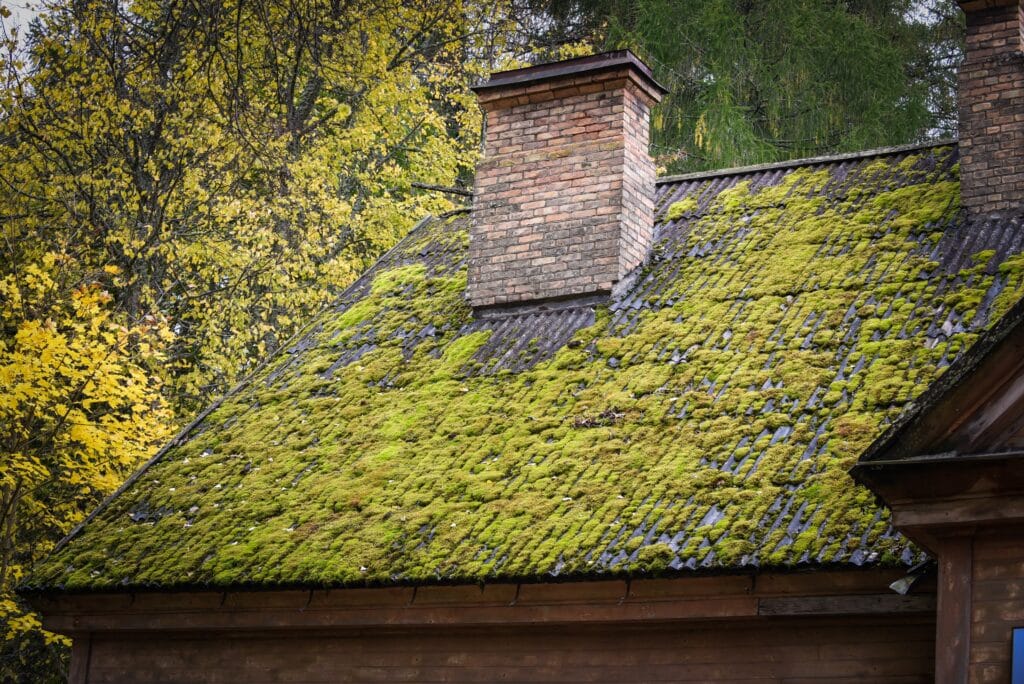 Roof Moss: Green & Clumpy Growth
Moss is best characterised by large green clumps that tends to form on the roof. This type of growth is best suited for areas with high shade and moisture, much like valleys and eaves. 
Moss can quickly spread from one area of the roof to another as spores become dislodged in the wind or by rain.
A small amount of moss is relatively harmless, but if left unattended, it can grow in between roof tiles and shingles, lifting them off the roof and creating gaps that can allow moisture to seep inside.
There are a number of ways to get rid of moss and algae growth on your roof. You could replace all the roofing with new shingles dark enough to disguise the staining. However, this solution can be costly, and only really beneficial if your roof tiles and shingles are already worn.
The most effective and cost-effective solution is to clean the roof. Depending on the roof surface pressure washing with the right detergents will do the job. However, if your roof is older or more fragile, it is important to be aware that pressure washing can do more harm than good. In this instance, a gentler approach such as soft washing with special detergents is recommended
Once the algae and moss have been removed, it is also important to treat the area in order to prevent future growth. Treating your roof with specialised and formulated cleaning products can help to inhibit the growth of algae, moss and other fungal organisms and keep them at bay.
Preventing Roof Algae & Moss
Roof algae and moss often grow because of moisture and bacterial growth. While almost impossible to fully prevent, there are a number of things that you can do to minimise the risk:
Contact Your Roof Cleaning Professionals
If you are unsure about how to safely and effectively remove moss and algae from your roof, then it is best to contact a professional roof cleaning service, like Water Attack Pressure Washing.
We will be able to assess your roof and choose the right methods for removing any growths and preventing future regrowth. With our help, you can ensure that your roof remains in good condition for years to come. Get in touch with us today to learn more about our services. We look forward to hearing from you!